Brochure Printing Features
Light Paper Brochure
Size: A1 (840x594), A2 (594x420), A3 (420x297), A4 (297x210), A5 (210x148), DL(210x99)
Weight: 90GSM/100GSM/150GSM
Full colour or mono can be one side or two side
Thick Paper Brochure
Size: A1 (840x594), A2 (594x420), A3 (420x297), A4 (297x210), A5 (210x148), DL(210x99)
Weight: 200GSM/250GSM/300GSM
Full colour or mono can be one side or two sides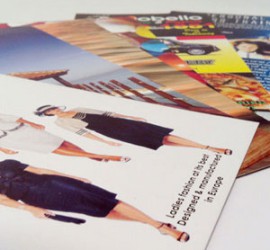 Brochure Marketing

Your brochure can be a key tool in your marketing toolbox. We provide a wide range of choices for printing brochures, all designed to drive sales. Brochures are a great way to feature your services, especially when placed in high-traffic areas.

 

Benefits beat features every time

When talking about your business, be sure to focus on the benefits of your company or products, rather than just features. Product features aren't relatable, while benefits speak directly to the customer about what they have to gain by investing in your business.

Know your purpose and what your customers wants

When it comes to brochure marketing, make sure you start off with the why. Creating a brochure won't do you any good if you don't know why you're making it. Another important thing is to think from customer's point of view. That means that information must gradually develop in the right order.

Make it a Keeper

Make sure that when customers are done reading your brochure, they know what you want them to do. Putting helpful information in your brochure will encourage the reader to keep it, refer to it often or pass it on to other people.

Keep it simple

When it comes to the actual content of your company brochure, don't overdo it. Keep in mind that a brochure is an overview of your business services. By trying to say it all, you could overwhelm readers, sacrifice visual appeal and lose your reader.

Good display is critical

Apart from the design of your printed brochure, it's important to think about how your brochure is displayed. Consider a brochure holder that can be custom printed to compliment your brochure and enhance your branding.
You'll be thrilled with the results, low pricing and fast turnaround! Call 02 9629 1199 to speak to us or place an order online now.
Custom Brochure Printing Options
Reveal the value of your company to customers with custom sizes, specialty papers, and custom folds for your business brochure. Apply metallic inks, shiny UV coating, die cutting, foil stamping and embossing to add a polished touch that grabs the attention of customers. Your brochure can (and should) be more than a list of bullet points. With custom brochure printing, the choices are endless and limited only by your imagination.
To get more information about this product, to know more about your custom project rates. Email us your custom requirements  or call (02) 9629 1199  for further assistance.